Debbie by her Mum
My Daughter will always remain in our minds as a beautiful sixteen year old, who longed for time to do the things we all take for granted. Debbie was born with Cystic Fibrosis, she fought her battle for life with great determination and not once did she say "Why me?" She never had a year that she didn't have a hospital admission. Debbie used her time to do things. She didn't belive in just lying in bed feeling sorry for herself. She would spend her time painting, making jewellery or writing poems!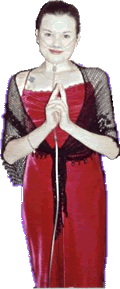 Debbie loved clothes and trips to the Kings Road, she chose her friends like the clothes she wore - always the best and of good quality. She loved the camera as it loved her. She was destined to be a star which, of course, she was.
She touched the hearts of many, many people. As the years passed Debbie's health got worse and worse. She was positive about her transplant, she planned what she would do with her future when she would recover and be 'normal', but Debbie always had a plan B. She said either way she would be out of the agony she was in.
Debbie got her wish on January 4th 2001. A heart and lung had become available. She signed her own consent forms, and it was her wish that her heart be used to help someone else. Debbie at last got her heart and lung transplant. She lived twenty-three days. She was a sleeping beauty who made the medical team work hard to try and give her the chance she longed for.
Sadly Debbie died on January 27th 2001.
Even though Debbie was only sixteen years old, we had spent at least forty years in time in each other's company. She was my best friend and I miss her more than I could explain. I was a very lucky person to have shared such a special love and friendship with someone so special herself.
The last year of Debbie's life was by far the most difficult. She spent most of her time on Rose Ward at the Brompton Hospital. Even there Debbie made her mark. She made friends with lots of people and everyone just loved to visit her room, which she had transformed to make her space her own. She would create things for herself to look forward to. She would plan secret trips to visit her friend Chris. Her last trip out was just the day before her transplant. She spent the day in the country and she ate her favorite food - Irish Stew. She had the best day ever, one which will remain locked away in my head for the rest of my life.
Debbie was truly strange in a matter of fact way. She had planned every detail of her funeral right down to the colour of the flowers. She had a song written for her by Geri Halliwell called 'Love is the only light' which was played at her funeral.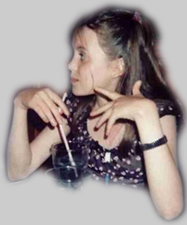 Debbie was also a mascot for the Iver Veterans Golf Society. She mixed with young and old with ease, all who knew her well loved her despite her very strange wit and funny ways.
Debbie is sadly missed by all who loved her. Her photograph hangs on walls both in England and Ireland. Hospital staff and friends wear bracelets and badges made only for them by Debbie. Her artwork hangs on the walls of the school in the hospital and my house if full of reminders of her artistic flare.
Time goes on and we are all learning to live without Debbie, but she will always live on in our hearts and remains with us in the legacy she has left behind in her poems and other written words.