Bride to Be (by Gabriel's Mum)
When strength allowed, she'd come at night. A vision of beauty despite all her suffering. She would ask, with humble tone, if it was all right to lay her oxygen cylinder upon my bed and then, with tender words, she would proceed to feed, water and play with me... my very own Bride to be.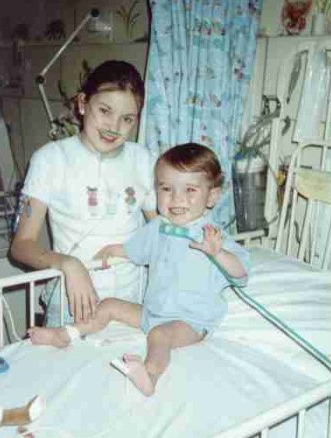 It is true; she once asked me to marry her and I quickly nodded in agreement because I could not yet speak. I did not think the fourteen year age gap would be a problem, and you do not get such a proposal from such a beautiful woman like that every day of the week... Not quite sure about the mother-in-law though; Remember that time I showered you Debbie? not with roses or expensive perfume, but a leak from my chest drain. No dramatics or shrieks of horror, but a quick change of clothes and you were back lovingly attending to my every need.
Several months have passed since that evening and you no longer visit my hospital bedside. Yet another person that left without saying goodbye. My mummy still wants to encourage our relationship... she puts our photographs together in a pretty frame and we take it down to gaze upon and kiss. She talks about angels and God's promise of eternal life to all who believe in him.
That we will one day be reunited again, free from the confines of these hospital walls. In a place full of love, worship, thanksgiving and joy. The heaven which you already inhabit. Wait for me there Debbie, my bride to be... as you've set such a high standard, few women could match.